My tag line has been 'Best believe your story will be told.' It is my intention to write the stories of amazing women who have shaped our stories as Black women and created a place for us in society. I am excited to share my 2 part essay on one of the women who shaped feminism during apartheid in South Africa.
Winnie MadikizeIa Mandela (born Nomzamo Winifred Zanyiwe Madikizela) was born on September 26, 1936. She was born in Bizana, a rural village in the Transkei district of South Africa. She was the 6th child of her parents. Her father had been known to be longing for a boy child, so when Winnie came, he raised her as his son. Winnie was smart, bold, and very intelligent. She used to take part in games with young men, where they wrestled using sticks. Fast forward, Winnie got a chance to study at Jan Hofmeyr School of Social Work. The woman that arrived in Johannesburg was very rural but very politically aware. During her time, the women who were with her and also shaping the thoughts of women and feminists were Albertina Sisulu, and a whole lot of other women we now greatly know. In her early years in Johannesburg, she was surrounded and influenced by these women who were like-minded. In I956, she then met Nelson Mandela. We see her being swept off her feet by Nelson Mandela who I believe she felt had the same energy as her and shared the same vision. Mandela was a Lawyer and anti-apartheid activist, who had a vision for a better South Africa. It might be good to highlight that he was also married to Evelyn Mase. In a lot of documentaries or stories, uMama has been portrayed to have been made by Mandela. However, I would like to see both of them as equals who simply complimented each other. We have had so many men during the struggle who did what Mandela was doing. In fact, most of the Black men during Apartheid were fighting for Black people and were in and out of prisons. Of those men, how many do we remember, how many do we hear of their names? Some of them died silent deaths and others simply vanished from the face of the earth the moment they were thrown in prison. However, when Nelson Mandela was put in prison it was Winnie who made sure that people never forgot about him. She made sure his name was still on the people's lips and even after 27 years of being locked up, people still remembered and highly respected Mandela.
When they met, Madiba was still married to his first wife, and at that time he was in and out of prison. When Winnie met Mandela, she clearly understood what she was getting herself into, she married a man who had now dedicated his life to the struggle. Mandela and Winnie complimented each other because of their fighting spirit and their hunger for freedom. Each groomed the other. The relationship between these two struck me because it was a mixture of politics and romance. In most interviews, Winnie has always made a point that people had forgotten her name. They now would refer to her as the wife of Mandela and she said it was as if she had vanished. It is imperative to note that Winnie already was an activist and was pushed for the liberation of the people. She did not become an activist because of Mandela and continuing to identify her only as the wife of an activist would be unfair. It was Winnie who stayed behind whilst Mandela was locked up, she had to deal with the police knocking on her doors at midnight, she was in and out of prison and she also had to be a mother to her children with Mandela. In one of her interviews, she described herself as the 'Most unmarried but married woman. During those times, it was difficult to navigate your way through patriarchy without your husband or a man who was in front protecting you. Still, Winnie proved to turn out okay though Mandela being locked in prison. So may we remember Winnie the activist and the mother of the nation, not Winnie the wife of Mandela. And for whatever reason they chose each other, I still admire their relationship and the way they complimented each other.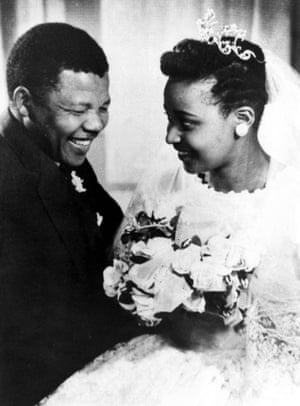 On May 12, 1969, Winnie was locked in prison and charged under the Suppression of Communism Act and the UnIawfuI Organizations Act aiming at the African National Congress, in this case, for 491 days. She was also accused of conspiring to commit sabotage. She was taken from her children in the middle of the night, was electrocuted, and put in solitary confinement. Prison food consisted of porridge with maggots and sometimes they would add pork fat to it, "and the porridge would actually swim in this fat" along with the maggots (Winnie Mandela, 2013, p. 62). She was later on released and put on house arrest. Her involvement in the struggle and her being married to Mandela led her to lose her job as a social worker and with Mandela in prison, it did not make things better. Nelson described how aII these events were eating him up, I mean it is expected considering this was a time when there was so much pressure that a man is a provider and men took (and still do) pride in being able to cater for their families. Mandela wrote: "The banning and harassment of my wife greatly troubled me. I could not look after her and the children, and the state was making it difficult for her to look after herself. My powerlessness gnawed at me" (1994, p 402). One of the consequences of apartheid was the separation of families and in this case, the government seemed to win.
People have often attached the term controversial when they speak about Winnie, mainly because she spoke of the necklacing, matches, and guns. The fact that she used these tools so openly and her being a woman made this very worse. It was unaccepted because people expected her as the wife of Madiba to hold herself to a certain standard. She was to be calm, soft, and be on the lead with praying for the Nation. Mama Winnie dared to be different and that is what shocked people. She was the lady with her fist in the air shouting Amandla! Her violence was complicated in the sense that, first of all, we condone violence and at that time a woman at the forefront of the struggle was scary but a woman being violent and at the forefront of the struggle was worse.
What strikes me about Winnie is how she embraced her femininity and used it to her advantage in dealing with the world ruled by patriarchy and apartheid. She was the embodiment of a calm but fierce woman, sexy and dangerous. She wasn't an average kind of woman. During the times she went to court she once dressed in her traditional attire and she was told that if she did not dress 'properly' she wouldn't be allowed to come and attend the trials. She was very selective in the way she dressed. Maybe that was her using her femininity to try and navigate her way through patriarchy, be a woman's lady, and a man's lady. Nelson described in his book that: Winnie always dressed up for prison visits and tried to wear something new and elegant. It was tremendously frustrating not to be able to touch my wife, to speak tenderly to her, to have a private moment together (1994, p. 401). This was Winnie, a Black woman who refused to have a label and she created her own version of what was an activist and a woman.