A question to the reader. Do you believe in the afterlife and the existence of ancestors? Recently , there was a trend on Twitter where people caption their posts, 'l am my ancestors wildest dreams' l will ask again, 'Do you believe in the afterlife and existence of ancestors? Musiiwa (2008), explains how the Shona people of Zimbabwe believe in the afterlife and how they believe in the role of the ancestors in the affairs of the living. This could explain why the liberation struggle songs in Zimbabwe embedded the names and influence of the ancestors in their songs. This l would like to believe was a way to motivate the freedom fighters. One famous song is the song by Harare Mambos – Mbuya Nehanda ;
'Mbuya Nehanda kufa vachitaura shuwa kuti tinotora sei nyika ino,
shoko rimwe ravakatiudza, tora gidi uzvitonge.Vadzoka kuhondo,
shuwa here vakamhanyamhanya nemasango vakatora anti air kuti ruzhinji ruzvitonge'
The song explains that Mbuya Nehanda said the way to regain freedom was to take up arms and fight. Now the question is, Who was Mbuya Nehanda?
Nehanda was a Mhondoro, a powerful and respected ancestral spirit. Mbuya Nehanda was actually the spirit medium of Nehanda. Her name was Charwe Nyakasikana. She was a Hera of the Hwata Dynasty. She was born in 1840 and died in 1898. Charwe was the daughter of Chitaura. Chitaura was the younger son of Shayachimwe who was the founder of the Hwata dynasty. She was born in what is now known today as Chishawasha District in Mashonaland Central in Zimbabwe. She was from the Shona tribe , one of the major ethnic tribes in Zimbabwe.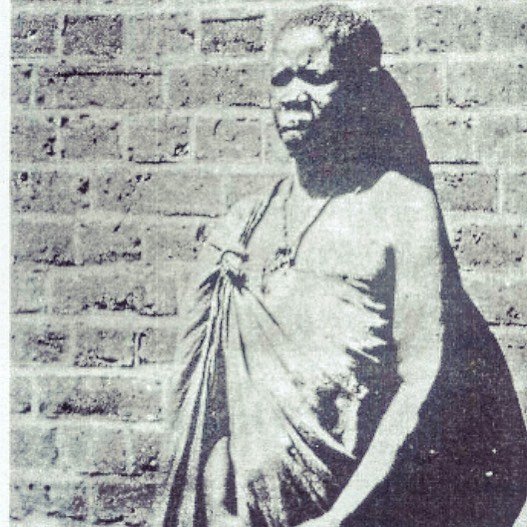 The Nehanda spirit has been known to originate from Nyamhita. Nyamhita was a daughter of Monomutapa Mutota, the founder of the Mutapa state. Mutota convinced or rather instructed his son Matope, who was to take the throne after him, to engage with Nyamhita (his half sister) so that they could have children and this would increase Matope's rule and empire. She is believed to have dissapeared in a mountain. Afterwards her spirit (Nehanda) settled in different women and about 500 years later it finally settled in Charwe Nyakasikana. The Nehanda spirit was one of the very powerful spirits, it was known to be responsible for the rainmaking, healing and the medium possessing it would be able to advise the locals.
Charwe Nyakasikana upon being possessed by the spirit Nehanda, was now named Mbuya Nehanda. Mbuya means grandmother and then Nehanda was the spirit. Mbuya Nehanda was the medium who was to communicate with ancestors and Mwari. Mwari is known to others as God. When the British South Africa Company settled in Zimbabwe led by Cecil John Rhodes, Mbuya Nehanda encouraged people to welcome them as she also thought they had nothing but good intentions. She even encouraged the locals to send them a black cow as a way to welcome them. Trouble began when the settlers started expatriating the people's land, mines and cattle. They started forcing them to work for the English Pioneer settlers on their farms, under very harsh conditions. It was no surprise that this led the locals to start an uprising against the settlers. Mbuya Nehanda told the locals that according to Mwari, the settlers were responsible for the locusts and rinderpest. They encouraged the people to drive the settlers out and Mwari had said their bullets would turn into water hence, they had nothing to fear. Mbuya Nehanda together with Mukwati in Matebeleland and Kaguvi in Western Mashonaland were leaders of the revolt. It is said that sekuru Kaguvi was the one who encouraged Mbuya Nehanda to convince the people to start an uprising. 
Most people have/had this idea (myself included) that sekuru Kaguvi and Charwe Nyakasikana (mbuya Nehanda) were married. We have a picture of both of them in our textbooks and we just decided that somehow they were married. Kaguvi, who some Historians have actually said was actually Kagubi/Kakubi Ncube and that Kaguvi was a bastardization of his name by Europeans. Kagubi was a spirit and the medium (at that time working with Charwe and Mukwati) was Gumboreshumba, loosely translated as lion's paw/foot. Kaguvi was actually believed to be the spiritual husband of Nehanda. Therefore, the spirits were 'married', however Gumboreshumba actually had three wives one of whom was Chief Mashonganyika's daughter and the other were from a headman called Gondo. Charwe is said to have also been married, unfortunately l coouldnt get the name of the husband. So there you have it folks, Mbuya Nehanda and Sekuru Kaguvi were not married. Ngilizwe futhi lisitsho njalo, ndikunzwei muchidaro. Loosely translated as 'let me hear you ever say that again'
They continued to lead the people in the liberation struggle known as Chimurenga War. Mbuya Nehanda played such an important and crucial role and is the only recorded woman known to hold such a position during the 19th century. It was also believed that during war in possesed form, she could tell where danger resided. When the settlers saw how the spirit mediums were of great influence to the people, they decided the best way to handle them was to eliminate them. They then captured and charged Mbuya Nehanda with murder of Henry Hawkins Pollard, a European Commisioner. He had been killed in the battle and they decided to accuse Mbuya Nehanda and they even had a witness ,a Black man (sigh). Sekuru Kaguvi was accused of killing a police officer. Anyway some say they were hanged and others through oral tradition say they were blindfolded and shot in the head. Before being killed, the priest who was present was trying to convince them to convert to Christianity but they both refused. Word says that after Mbuya Nehanda was killed, sekuru Kaguvi agreed to convert then he was killed afterwards. Before dying, Mbuya Nehanda chanted , 'Mapfuma angu achamuka', which means my bones will rise. This was believed to have motivated the locals and led to the 2nd Chimurenga war.
(Charumbira, 2020) writes on how the Nehanda presented by Trevor Ranger in the book, 'Revolt in Southern Rhodesia, 1896-7: A Study in African Resistance' is more of a mystical and political figure. Whereas, the Nehanda presented by Yvonne Vera in the book, 'Nehanda' was a feminist nationalist Nehanda-Charwe. I cant comment much on this right now, however, l am going to get time to read the book by Yvonne Vera and let's have a deeper conversation on it. As for Revolt, (grin), if l am able to get hold of the book we can compare and contrast the two. For those interested you can check them out on Amazon, Revolt by Trevor Ranger and Nehanda by Yvonne Vera
Mbuya Nehanda is still being honoured today through songs, poems, a maternity ward was named after her and a statue erected in Harare in honour of her. Her legacy lives on and may we continue to never forget her. She was a symbol of resistance and she is a Mbokodo.
Acknowledgements
Charumbira, R. (Ed.). (2020). Chapter 2. Historians and nehanda of zimbabwe in history and memory. In Women warriors and national heroes (pp. 39–54). Bloomsbury Open.
Culture and Society. (2020, March 26). [Post]. Facebook. https://web.facebook.com/ZimNatives/posts/great-zimbabweans-mbuya-nehandamapfupa-angu-achamuka-my-bones-shall-risemany-of-/241251320609602/?_rdc=1&_rdr
Life and times of Kaguvi. (n.d.). Bulawayo1872.Com. http://www.bulawayo1872.com/history/kaguvisekuru.htm
Mazama, A. (2015, December 16). Nehanda. Encyclopedia Britannica. https://www.britannica.com/topic/Nehanda
Mazama, A. (2021, April 23). Charwe. Encyclopedia Britannica. https://www.britannica.com/biography/Charwe